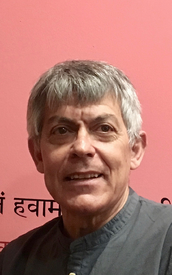 Saturday February 27, '21 at 05:00 PM
Teacher: Pedro A. Flores
Pedro graduated in history from the University of Salamanca. He also holds the AIPYS Yoga Teacher diploma in Hatha Yoga and Meditation. Professor and specialist in meditation traditions, he began his workshops in 2004. At present he is devoted to the practice and diffusion of meditation in small groups, where he freely teaches his personal commitment to this ancestral practice from a human point of view.
The sessions
The sessions will be both theoretical and practical. In them we will address in an entertaining and dynamic way some of the most important texts, schools and teachers of the Hindu tradition. Throughout the sessions we will intersperse practices according to the references mentioned.
Sessions online of one hour.
Minimum of 5 people
1st session:
The Vedas and the Upanishads. The sacred scriptures of India. Vedic hymns: the Gayatri mantra. Mahamantras or Mahavakyas.
Meditation practice: metaphor of the two birds.
2nd session
From the Brahma Sutras to the Viveka Suda Mani or The Supreme Jewel of Discernment. The advaita vedanta. Meditation practice: metaphor of the snake.
3rd session:
Bhagavad Gita.
Practice meditation: «Add your manas to Me; be My devotee; offer me your sacrifices; bow down before Me. Thus you will come to Me in truth. This is My promise, to you who are dear to Me »(18.65).
4th session:
Yoga Sutras. Patañjali. The Yoga of mind control. Yamas and niyamas. From asana to samadhi. Meditation practice: "Yoga is the cessation of movements in consciousness" (1.2).
5th session:
Tantra. The kundalini. Mantras. Yantras and mandalas. Mudras. Practice meditation: "Human beings rise with what they fall with," Kulárnava-Tantra (in John Woodroffe, Serpentine Power, 212).
6th session:
Contemporary teachers. Vivekananda and Aurobindo. Krishnamurti and Nissargadatta. Ramana Maharshi: method of self-inquiry. Practice meditation: Ramakrishna's thief-fisherman metaphor.
Dates & Schedule
February 06
February 27
March 13
April 3
April 24
May 15
Afternoon
Saturdays from 5:00 p.m. to 6:00 p.m.
Prices
The entire intensive: 90,00 € €
15 days before the date: 81,00 €
or
one off - 20€
Payment methods
Take advantage of the favorable early prices, full payment must be received before the cut off date.
Amounts can be paid by bank transfer to:
Yoga Formación Institute.
Account number: ES50 2100 2125 0302 0054 9420
Note: On the bank transfer you must indicate your name and the course that you are taking.