Puerta de Alcalá
C/Serrano 6, bajo 4. You can find us next to one of the best known monuments of Spain: "La Puerta de Alcalá". It is next to the "Retiro" Park. Because of its central location, 'Yoga Center' is easily accessible by all forms of public transport and/or car.
For information about the nearest Metro/Buses/Parking please consult the map below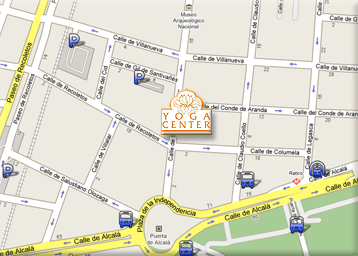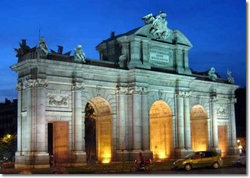 Puerta de Alcalá
Facilities
'Yoga Center' offers you an oasis, of peace and tranquility, for your Yoga practice. We offer you 4 practice rooms, the largest of which can be reconfigured according space requirements. The 'Yoga Center' has been carefully designed to reflect an aesthetic sense that marries the traditional with the modern.
Inquiries
Serrano, 6 bajo 4 – 28001 - Madrid
Daily opening hours: 10:00 - 21:30.
Saturday: 9:30 - 14:00
Tlf.:(+34) 91 575 19 13