Since 1977
Yoga Sananda Vigo, was founded in 1977 with the idea of teaching the ancient science of Yoga.
The various philosophies of India
Our Center is characterized by a broad approach to the various philosophies of India, the practices of various styles of Yoga and to maintain a close relationship with Western philosophy, psychology, neuroscience, and mind-body medicine.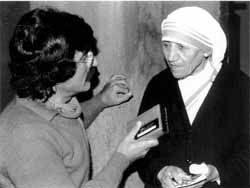 Mother Teresa with Madhana
Different Yoga Styles
Sananda Yoga Center, is also known for its variety of Yoga styles, its Yoga teacher training courses, and symposia. The center has held seminars on:
Meditation
Pranayama
Classic Yoga texts
Yoga and science
Yoga and medicine
Yoga and the brain
Yoga and the mind
and many other topics.
Madhana and Swami Vishnuji