Liz Workshop
Liz's Workshop March 2014
Liz enchanted and challenged us all once more. She engaged the group with a continuous series of sequences that charmed everyone while getting them to do more than they imagined possible. At the same time Liz mesmerized the participants with her art, her music, her songs, and her inspirational quotes taken from the poets and mystics of the world and the ages.
Liz's Growing Collaboration
Liz has agreed to participate in our new Advanced Diploma course that completes the 500 hours of our Hatha Yoga Teacher Training certification. We will soon be announcing the content of her contribution to the advanced course. She will train the graduates in 'creative sequencing'.
First Advanced Course Presentation
We will be offering our new 100 hour Advanced Diploma course this summer in Aldeaduero. As soon a s we have Liz's curriculum we will include in the course description.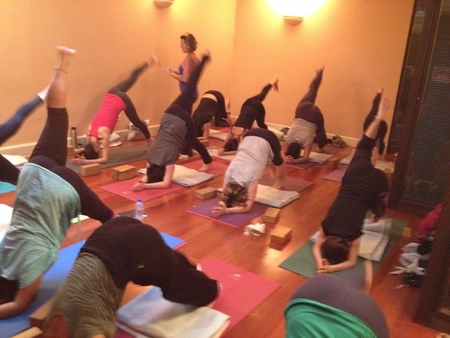 ---
Comments
1 comment for this post
Leave a Comment