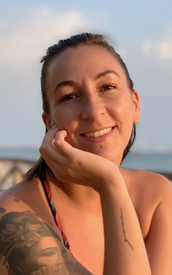 I started in the world of professional dance since I was little, which opened my mind, I got to know the discipline, body awareness and a way of expressing myself.
I was also trained as a Pilates teacher, which gave me great knowledge of the body and the satisfaction of being able to help improve health and verify the ability to overcome human beings.
By chance yoga came into my life and became a way of life. I discovered that in addition to enjoying practicing, I also do it by guiding and sharing.
I continue to train continuously so that I can continue to improve, enriching myself along the way and sharing with others.
Arancha Amado's Class Schedule