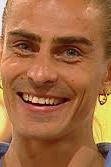 Petri "Rähjä" Räisänen
Petri is an internationally known and respected Ashtanga Yoga teacher. He started practicing Ashtanga Yoga in 1988 and teaching in 1990. He studied with Guru, Sri K. Pattabhi Jois, and was authorized to teach Astanga Yoga in 2001.
Petri is co-owner and director of Ashtanga Yoga Helsinki. Petri has studied with Derek Ireland, Radha Warrel, Gwendoline Hunt, Lino Miele and Eddie Stern, in addition to R. Sharath Jois and Sri K. Pattabhi Jois.
Petri focuses on integrating healing and therapy with yoga, meeting student's individual needs and guiding their progress. Petri's yoga pose adjustments are gentle, effective, therapeutic and, according to some, almost magical, and originate (besides his own practice and teaching) from his past work as a traditional Finnish folk healer and naturopath. His friendly, relaxed behaviour and intuitive perception give an open, energetic and meditative atmosphere to his classes.
In 2004, Petri wrote "Astanga - The Yoga Tradition of Sri K. Pattabhi Jois". His intermediate series book "Nadi Sodhana" was released in 2008.