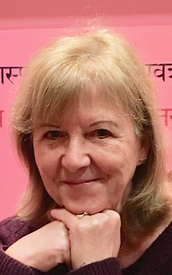 Yoga in my Life
Yoga has profoundly influenced my life for as long as I can remember which, in turn, strongly influenced my decision to become a yoga teacher enabling me to share the life-enhancing benefits with others. I qualified with The Yoga Center in Madrid, Spain. I also received previous training within Sivananda ashrams both in Spain and France. I regularly continue to deepen my practice with internationally renowned teachers both in London and Madrid. Alongside my practice of Hatha Yoga I have also studied with Judith Hanson Lasater and am a registered Relax and Renew Trainer.
Primary Headteacher
For many years I was the Headteacher of a British Primary School in Madrid, Spain where I successfully developed the inclusion of yoga and mindfulness within the school curriculum. Currently I continue to help and advise other schools with a similar mission. I trained and qualified as a Children's Yoga Teacher with Yoga Bananas and also with Jo Manuel at the Special Yoga Centre in London. My yoga teaching reaches all age ranges within, and outside of the school setting, including teens, teachers and over 50's who are new to yoga. Mindfully focusing on the breath and cultivating compassion for the self lie at the heart of my teaching.
Meditation and Mindfulness
Alongside yoga teaching I am also passionate about the impact of meditation and mindfulness on our everyday lives, especially now, with the challenges young people especially, are facing in the 21st century. I am a certified tutor of meditation for children and also a qualified tutor trainer for Connected Kids. I am also qualified to teach MBSR (Mindfulness Based Stress Reduction) courses. In addition I am certified to teach the .b, the paws .b and the Foundation Mindfulness Curriculum for the Mindfulness in Schools Project (MiSP).
Yoga & Mindfulness for Our Kids
I believe that when children (and adults) learn techniques for well-being, relaxation and inner fulfilment they can approach life's challenges with more ease, confidence and compassion. Yoga and mindfulness introduced at an early age can encourage self-worth and body awareness through physical and mindful activities that are noncompetitive thereby fostering cooperation, empathy and compassion rather than opposition.

.