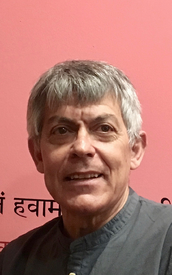 Pedro A. Flores was born in Navales (Salamanca) in 1957 and currently resides in Madrid. He has a degree in Geography and History from the University of Salamanca. Professor and specialist in meditation traditions he teaches in the teachers training courses of AIPYS.
At present he is devoted to the practice and diffusion of meditation in small groups, where he freely teaches his personal commitment to this ancestral practice from a human point of view.
Pedro is an expert teacher of the philosophy and Hindu tradition components of our Hatha Yoga Teacher Training Courses. He is also author of different books.
Author of:
The Silent Drum. Four workshops for Meditation, 2015
Do not abandon me. Meditation in the process of dying, 2017
Meditation for Life. A Training Course, 2017
Amantia. A dream of Madrid (a novel), 2015
Upcoming Training Courses