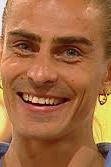 Thursday September 20, '18 at 07:00 AM
Teacher: Petri Räisänen
Petri is an internationally known and respected Ashtanga Yoga teacher. Petri wrote "Astanga - The Yoga Tradition of Sri K. Pattabhi Jois" and "Nadi Sodhana" intermediate series book.
Petri
Petri focuses on integrating healing and therapy with yoga, meeting student's individual needs and guiding their progress. Petri's yoga pose adjustments are gentle, effective, therapeutic and, according to some, almost magical, and originate (besides his own practice and teaching) from his past work as a traditional Finnish folk healer and naturopath. His friendly, relaxed behaviour and intuitive perception give an open, energetic and meditative atmosphere to his classes.
Thursday September 20
Taking advantage of Petri being here on September 20, we offer you an extra class (not included in the Complete Workshop) for those who want to take advantage of their presence in Madrid and enjoy a special class with him.
19:00-21:30 Led class with Pranayama and meditation
Price of this extra class 55,00 €
Friday September 21
7:00-9:00 Mysore class or Led primary series at 18:00-20:00
20:00-21:00 Workshop opening, and Meditation.
Saturday September 22
Mysore class 8:00-9:30 or 9:30-11:00
Workshop on Nadi Sodhana 14:00 - 16:30 - and followed by book signing of Petri's new book.
Sunday 23
Mysore class 8:00 - 9:30 or 9:30-11:00
Dharana workshop (concentración techniques) 12:00 -14:30 followed by book signing of Petri's newest book
Prices:
Complete Workshop from Friday to Sunday
The entire intensive: 245,00€
40 days before the date: 202,00€
Individual Sessions
Opening lecture 20,00€
90 minute class: 43,00€
90 min. class paying 40 days before the date: 37,00€
120 minute class: 55,00€
120 min. class paying 40 days before the date: 49,00€
150 min. workshop: 63,00€
150 min. workshop class 40 days before the date: 57,00€
* It is necessary to reserve by prepayment. No refund if cancellation made 14 or less days prior to workshop.
Payment methods
Take advantage of the favourable early prices, full payment must be received before the cut off date.
Amounts can be paid by cash, money order, credit card or bank transfer to:
Yoga Center, S.L.
Account number: ES 06 2100 1417 16 0200283014
Note: On the bank transfer you must indicate your name and the course that you are taking.
Note
We reserve the right to make changes to any of the above without further notice.