Sunday August 02, '20 at 05:30 PM
Teacher: Chrystiani Mensoni
Chrystiani, a creative specialist of the Iyengar and Hatha Yoga styles. Chrystiani is also offers her faculty and very interesting workshops on different aspects of yoga.
Restorative practice
Deepening and understanding the asanas so that we gather a set of tools where we are able to incorporate the restorative postures in our personal practice and as teachers when we teach, it will be one of the treasures that the participants will take with them.
You already know this is a unique experience
August 2nd to the 6th.
With Chrystiani in this 25 hour course.
Program
Deepening and understanding restorative asanas.

Gather a set of tools where you can be able to incorporate restorative postures in personal practice and in teaching.

Assemble complete practices.

We will understand how each posture has a space and an objective, so the postures will be used safely for the students or in personal practice.

Lots of ideas.

This practice can provide many ideas and works for students with special needs and for private classes where special and truly useful care is provided to students.

Practical sessions.

There will be practical sessions and we will finish each day taking notes from the sessions.

Learn to adjust.

Students and peers will be taught to adjust with a touch that will surely make practice more enjoyable.

Breathing.

The common thread of the practice that will be present in the development of all the sessions. The breath.

Other topics

Caring for the back, hips, and main joints.

Meditation

We will conclude the classes with a small meditation to strengthen and assimilate what has been learned.
Chrystiani practicing some postures
Benefits
At the end of the program you will come out with a complete vision of how restorative yoga can contribute a lot to practice and to the teachers in how to improve their teaching.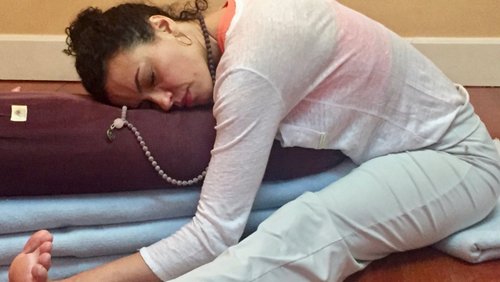 Schedule
07:00 Good morning
07:30 Practice
09:30 Breakfast
11:30 Master Class
14:00 Lunch
17: 30 Practice.
20:00 Meditation
21:00 Dinner
22:30 Good Night
Location
Hotel** Residency Cemar is situated at the entrance to the town of Mondariz Balneario It is 30 minutes from Vigo.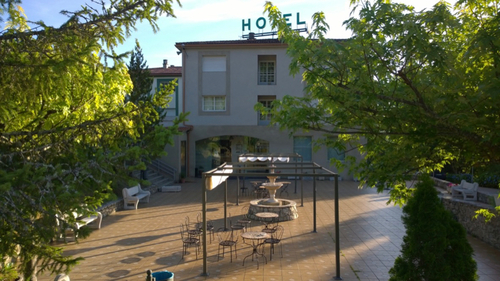 Choice of Accommodation
Standard rooms, single or double featuring basic amenities for a pleasant stay.
Single Room
Single rooms are limited. Book early to ensure availability.
Double Room
These rooms come with two single beds and an ensuite bathroom. Its perfect for sharing with a friend.
Note: All rooms have natural daylight.
Call +34 650 935 770 for details ask for Gauri on how to reach Mondariz Balneario.
Prices
6 days 5 nights.

The final price includes the deposit.

Payment in full in a single room after June 15 2021
Non-refundable deposit: 200 €
Total due: 996 €

Payment in full in a double room after June 15 2021
Non-refundable deposit: 150 €
Total due: 848 €

Payment includes workshop, accommodation and meals.
Note: American Plan includes 3 meals & room.
Program Reservations
If you wish to reserve a place please send the full payment early. Private rooms are limited.
Cancellation Policy
If you cancel 21 days or more before your program begins you will receive the full amount minus a 50,00€ processing fee.
If you cancel less than 21 days prior to the event you will receive 40% of your payment.
No refunds will be issued for cancellations made less than 7 days prior to the starting date of the event.
To take advantage of the favorable prices, full payment must be received before the cut off date.
Amounts can be paid by cash, money order or bank transfer to:
Account number: ES50 2100 2125 0302 0054 9420
Note: On the bank transfer you must indicate your name and the course that you are taking.
To Register Now for the Course
You can download a registration form pdf. After printing it out you can fill it in and then mail or e-mail it in with your deposit to reserve your place on the course.
Note
We reserve the right to make changes to any of the above without further notice.