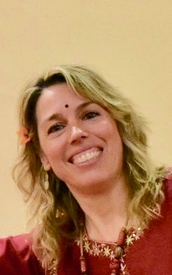 Saturday February 20, '21 at 05:00 PM
Teacher: Nerea Esbrit
In my childhood I competed for years as a gymnast in high competition. Afterwards I looked for a balanced discipline that respected body and mind without competition. That's when I discovered Yoga. It resulted in my taking the 500 hour Teacher Training at AIPYS and the joy of sharing Yoga with others as a teacher.
Excellence through Yoga without Injury
Learn how to practice asanas, without fighting your body, or looking for the perfect posture.
Through deliberate practice, you will discover how to flow and enjoy this feeling in yoga and your daily life.
We will proceed to excellence without the extreme demands to seek perfection.
Bring harmony to your daily practice, bring light to your life.
Module
Online format, guided face-to-face.
Schedule
17:00 to 19:00
Prices
Price: 57,00 €
15 days before date: 50,00 €
Payment methods
Take advantage of the favorable early prices, full payment must be received before the cut off date.
Amounts can be paid by bank transfer to:
/ Nº cta. ES50 2100 2125 0302 0054 9420
Note: On the bank transfer you must indicate your name and the course that you are taking.