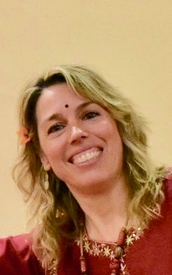 Gymnastics
In my childhood I competed for years as a gymnast in high competition. For that reason I looked for a balanced discipline that could provide body work, concentration, respect for the body and mindfulness without competition. And that's when I discovered Yoga. I loved to feel those parts of my body that I had forgotten, that connection, now more conscious of my body and my mind. I began to explore myself from another perspective and with a different intention.
Training Courses
From there I started practicing and this practice led me deeper into the teachings, which resulted in my taking the first year Hatha Yoga Instructor Course and then the full Teacher Training at AIPYS. All this gradually, respectfully and enthusiasm to make Yoga a part of my life. With the practice of Hatha Yoga and meditation I know myself better - accepting and developing my own qualities.
Sharing Yoga
I also discovered that I enjoyed sharing all that I was learning with my students in my classes with them.
And that's where I am, practicing and integrating yoga into my life as best I can and sharing it with students and also learning from them. It is a joy to have this opportunity to offer and share yoga.
Wellbeing
I attend workshops and intensive courses to keep improving and acquiring new knowledge and experiences that enrich me. Each day surprises me how I feel inside at the end of each class, and I hope that never stops surprising me. Namasté .
Upcoming Training Courses