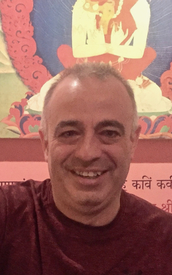 Ramon received his teaching diploma from the Ramamani Iyengar Institute in Pune, India.
He teaches daily at 'Yoga Center Madrid' as well as intensive workshops throughout the year and in the summer. His classes emphasize attention to detail coupled with an understanding of the specific needs of each student. He lightens his rigorous classes with his unique sense of humor.
Ramon is free of any Guru bonds. He directs the Teacher Training Courses in Iyengar Yoga (Instructor, Teacher and Post-Graduate) of the Sananda International Association of Yoga Teachers (AIPYS)
Practitioner and teacher, he continues to investigate and develop new resources both in practice and in teaching this beautiful discipline.
E-RYT 500 Yoga Alliance.
Ramón Clares's Class Schedule