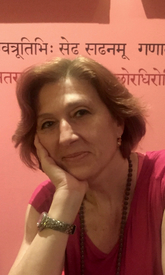 Valuable changes
I approached the world of Yoga, almost by accident and I could never imagine it would bring so many valuable changes to my life.
I was surprised to discover not only physical improvement, but also how it changed my way of understanding life and handling problems.
Learning daily
I began practicing Hatha Yoga and after several years with different teachers, I tried Ashtanga, I loved its dynamic, strength, fluidity and it led me naturally to a greater level of commitment.
I eventually trained as an Teacher of Hatha and Ashtanga Vinyasa, also as an instructor of Vinyasa Flow and did workshops with highly regarded teachers.
I have been continuously learning and practicing and I'm happy to share what I have learned with the students, from whom I also learn daily.
Now days I direct a Vinyasa flow postgraduate course and I am a co-director in the Ashtanga Vinyasa Yoga training course.
Upcoming Training Courses