Fact Sheet
Duration

30 hours

Style

Restorative Yoga

Diploma

Advanced Yoga Teacher

Where

In person and online combined

Language

Spanish

Starting

Sat. Sep. 30, '23 at 09:00 AM
Duration

30 hours

Style

Restorative Yoga

Diploma

Advanced Yoga Teacher

Where

In person and online combined

Language

Spanish

Starting

Sat. Sep. 30, '23 at 09:00 AM
Calendar of the dates
Monthly
Sept./Oct
30 – 01
November
04 - 05
November
25 - 26
Schedule
Saturday: 09:00 a 14:00
Sunday: 09:00 a 14:00
Who is this course for:
This course can be accessed by those who already have training in yoga from any tradition. If you are a Yoga teacher and want to motivate your students by giving them new tools that are different from the ones you are used to, this course is for you.
It is necessary to have completed a training of a minimum of 200 hours.
The course consists of 30 contact hours.

Format
This format of restorative practice, as its word already indicates, invites the mind to restore the body and accompany it with the intention of acknowledging its work, willingness and time, thanking it for its help in the journey of life.
The practice gives the participant very good instructions in the alignment of the asanas as well as considering other complementary exercises, which with the help of different props or materials for this work, allows us to create spaces without effort, thus inviting the mind to remain alert but calm. The spaces produced by this practice will be occupied by broadand comfortable breathing.

Restorative Postures
Restorative yoga is a great complement to add to conventional practice or even after a practice of conventional exercises. During this practice, the aim is to help the deepest muscles of the body to find a deep relaxation.
This practice acts directly on the parasympathetic nervous system responsible for producing and restoring body energy. Thus, regular practice helps to restore the balance of body and mind.
Restorative yoga helps in aligning the asanas with props, creates spaces without effort, while the mind remains passive but alert and calm. The spaces produced by that practice will be occupied by a comfortable and broad breath.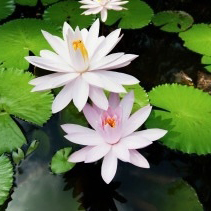 Testimonial

"Thanks to all of the trainers. You are all marvelous teachers. Thanks for teaching me so much and so well.".

Ivana Cobo/ Julio 2019