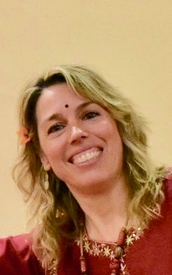 Saturday March 20, '21 at 05:00 PM
Teacher: Nerea Esbrit
In my childhood I competed for years as a gymnast in high competition. Afterwards I looked for a balanced discipline that respected body and mind without competition. That's when I discovered Yoga. It resulted in my taking the 500 hour Teacher Training at AIPYS and the joy of sharing Yoga with others as a teacher.
I realise and from my own experience, that the practice of yoga opens spaces and emotions that were blocked and if you do not have emotional education (as is usual in our society and times), we do not know what to do with all that what it feels like, and if we also rely on the belief that if you do yoga or meditate "you don't feel anything unpleasant, you don't get angry, you don't feel sad ..., then an intense internal conflict is generated in each one of us.
For me personally it was a very important discovery and it has helped me feel better about myself and that is why I would like to share it and transmit it in this workshop.
You can help yourself with the learning of body, mind and emotions, there are very useful tools for your day to day.
Module
Online format, guided face-to-face.
Schedule
17:00 to 19:00
Prices
Price: 57,00 €
15 days before date: 50,00 €
Payment methods
Take advantage of the favorable early prices, full payment must be received before the cut off date.
Amounts can be paid by bank transfer to:
/ Nº cta. ES50 2100 2125 0302 0054 9420
Note: On the bank transfer you must indicate your name and the course that you are taking.