It is the readiness of the mind that is wisdom
Payment includes workshop, accommodation and meals.
Madrid
Course: Residential Meditation Instructor 1
Code: MD-I-R
Dates: X/XX/XXXX - XX/XX/XXXX
Format: Summer residential
Level: I
Hours: 200
Language: Spanish
Where: XXXXXXX
Course starting time: X XXXX 17:30.
Course Content
Who is this course for?
This course is for those who want to learn how to teach and practice meditation. You need to demonstrate a sufficient previous interest and experience meditation.
Objective of the Course
Meditation is a practice that is intended to still our inner world and create harmony within. This course teaches you how to train your students to meditate.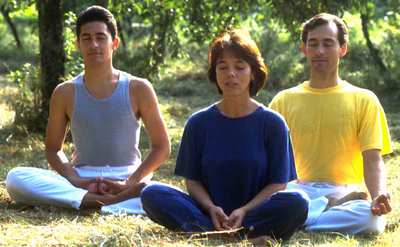 Course Themes
Techniques of Meditation
Meditation includes techniques such as listening to the breath, repeating a mantra, or detaching from the thought process, to focus the attention and bring about a state of self awareness and inner calm.
Health Benefits
The relaxation and reduction of stress that are claimed to result from meditation may have prophylactic and therapeutic health benefits. Many research papers claim to show this.
Content
Basic Buddhist Meditation
Goenka - Vipassana
I am not this body
I am That Meditation
Loving Kindness Meditation
Zen Meditation
Pranayama Meditation
Soto Zen
TM techniques
Visualizing Your Deity
Chakra meditation
Walking Meditation
Yoga Nidra
August, XX to X, XXXX
Daily Training Timetable:
07:00 Good Morning
07:30 Meditation
08:30 Lecture
09:30 Breakfast
10:45 Pedagogy
12:30 Meditation/Lecture
14:00 Lunch
16:00 Pedagogy
17:30 Meditation
18:00 Lecture
20:00 Meditation
21:00 Supper
Location
You can find out more about Aldeaduero, where you will spend three very challenging weeks in this nature paradise.

The chapel of Aldeaduero
Aldeaduero is situated on the border between Spain and Portugal in the province of Salamanca in a National Park. It is a 3.5 hour car, bus or train journey from Madrid. We have put together more details on how to get there for your convenience.
Teachers
The course will be directed by the following senior trainers.
Choice of Accommodation
To find out more about the accommodation adoptions available to you in Aldeaduero read more . . .
Inn
Standard rooms, single, double or double for single use with bathroom featuring basic amenities for a pleasant stay, coupled with the tranquility of the place.
Hotel ****
Higher standard rooms with luxury details are available to make your stay more comfortable and special: double bed for single or couple use with ensuite bathroom. In a luxurious setting on the banks of the River Duero.
Casita.
With your own garden and all the amenities for your comfort. Large rooms with the convenience of having two bedrooms, one or two single beds in each room, including ensuite bathroom, living room, and kitchen. Its perfect for families and/or friends who want to share a space just for them.
Note: All rooms have natural daylight and air conditioning.
Fees: Part 1:
Payment in full in a double after June 15 2016
Total due: 2366 €
Non-refundable deposit: 200 €

Payment in full in a double before June 15 2016
Total due: 2169 €
Non-refundable Deposit: 200 €

Payment in full in a double before May 15 2016
Total due: 2.067 €
Non-refundable Deposit: 200 €

These prices are for the Inn only with American Plan (3 meals & lodging). See other accommodation options below.
Other Lodging Options
In a Hotel**** with AP in a single room - supplement per day and person 30€.
In a cottage with AP - Supplement: In a double room per day and person 20€. In a single room per day and person 50€ (The small house can be shared between 2, 3 or 4 persons)
Note: Single rooms are limited.
Program Reservations
If you wish to reserve a place please send the full payment early. Private rooms are limited.
Cancellation Policy
Course Reservations
If you wish to reserve a place please send the deposit amount early. The deposit is not refundable.
To take advantage of the favourable prices, full payment must be received before the cut off date.
Amounts can be paid by cash, money order, credit card or bank transfer to:
Yoga Center, S.L.
Account number: ES 06 2100 1417 16 02 00283014
Note: On the bank transfer you must indicate your name and the course that you are taking.
If you cancel 21 days or more before your program begins you will receive the full amount minus a 50,00€ processing fee.
If you cancel less than 21 days prior to the event you will receive 40% of your payment.
No refunds will be issued for cancellations made less than 7 days prior to the starting date of the event.
To Register Now for the Course
You can download a registration form pdf. After printing it out you can fill it in and then mail it in or fax it to 911850398 with your deposit to reserve your place on the course.
Certification
Certification is obtained after passing the theoretical and practical assessments, resulting in a Practice of Hatha Yoga Teacher diploma.

Students may choose to resit the exams at one of the AIPYS centers, if necessary to complete their diploma requirements.
In the case of not passing the exams, a Certificate of Attendance will be awarded.
Note
We reserve the right to make changes to any of the above without further notice.