Madrid
Course: Hatha Yoga Instructor Training Course
Code: HY-I
Dates: 01/02/2019 - 30/06/2019
Level: I
Hours: 200 hours
Language Course: Spanish
Where:Yoga Center, Madrid, Spain
Course starting time: February 01, 2019 at 17:00
Who is this course for?
This course is designed for you if you have at least two years experience in the practice of Yoga and want to improve your practice and deepen your knowledge of the Yoga practice and tradition and aspire to teach Yoga.
The Yoga Center Madrid 200 hour yoga instructor training is designed to take your personal practice level to a whole new dimension and provide you with the skills to offer your students an intelligent and inspired yoga class. This course is ideal for serious students and aspiring teachers.
Objective of the Course
This foundational yoga training is designed to give you a transformative experience. You will gain a deeper understanding of all things yoga. If you want to teach, this will mark the beginning your successful career as a yoga teacher.
Our Instructor Training Course Structure
Our training program meets currently accepted international requirements as a 200 hour foundational course.
80 hours training techniques
50 hours teaching methodology
15 hours anatomy and physiology
30 hours Yoga Philosophy and ethics
25 hours practicum
'Yoga Center' trains its teachers of Hatha Yoga from several perspectives:
as an Indian wisdom tradition
as a psycho-physical practice system
as a cultural experience
as an empirical health practice
We are unique in offering you the advantage of knowing how Hatha Yoga is understood in the Hindu context and at the same time analyzing its paradigm in post-modern terms.
Course Themes
1. Yoga in the West
2. Hatha Yoga
3. Tantra & Kundalini Yoga**
4. Raja Yoga**
5. Karma Yoga
6. Bhakti Yoga
7. Jñana Yoga & Other Topics**
Course Content:
Postures, breathing, relaxation, meditation, pranayama, tradition and Kirtan, classical texts.
During the course you will study and analyze the postures, breathing, and relaxation, basic anatomy and physiological viewpoints.
You will learn the classic techniques of Integral Yoga and come to understand the sources of this Indian tradition. You will experience personal growth, deepen your understanding of the practice, psychology and philosophy of Yoga while learning the Yoga vocabulary and terms in Sanskrit.
Through an eclectic and pragmatic methodology, with its variety of techniques, you will discover the most appropriate ways to approach students of different levels.
Timetable:
17:00 to 18:30 Personal Practicum/Pedagogy
18:45 to 20:15 Yoga Tradition
Saturday
08:30 Personal Practice
10:30 Pedagogy
12:30 Anatomy
14:00 Lunch
15:00 Meditation, Pranayamas and Bandhas
16:00 Movement and body dinamics
17:15 Apply pedagogy
18:30 Departure
Sunday
08:30 Personal Practice
11:00 Pedagogy
12:00 Snack
12:30 Yoga Tradition
14:30 Departure
Teachers
Dates
February: 01-02-03
February: 15-16-17
March: 01-02-03
March: 15-16-17
April: 05-06-07
April: 26-27-28
May : 10-11-12
May: 24-25-26
June: 07-08-09
June: 28-29-30
Location
You can find out more about Yoga Center Madrid here
Course Prices
Instalments. Deposit after December 15, 2018
Total due: 2.650€
Non-refundable Deposit: 360 €
10 Instalments: 229€.
Instalments. Deposit before December 15, 2018
Total due: 2.470 €
Non-refundable Deposit: 360 €
10 Instalments: 211€
Payment in full. After December 15, 2018
Total due: 2.449 €
Non-refundable Deposit: 250 €.
Payment in full. Before December 15, 2018
Total due: 2.385 €
Non-refundable Deposit: 250 €
Course Reservations
To reserve a place please send the deposit early. This amount is not refundable.
To take advantage of the favorable prices make payment before the cut off date.
Amounts can be paid by cash, money order, credit card or bank transfer to:
Yoga Center, S.L.
Account number: ES 06 2100 1417 16 02 00283014
Note: On the bank transfer you must indicate your name and the course that you are taking.
To Register Now for the Course
You can download a registration form pdf. After printing it out you can fill it in and then mail it in with your deposit to reserve your place on the course.
Course Terms of Agreement
When you sign up for one of our courses there are certain general conditions of agreement that will apply.
Certification
Certification is obtained after successfully completing the theoretical and practical tests which are given throughout each course.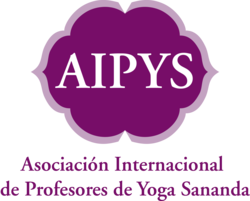 Accreditation
All our courses are recognized and accredited by the International Association of Yoga Teachers Sananda (AIPYS) , keeping the standards and criteria established by the international yoga community.
Other registers
Upon the completion of this course as an AIPYS 200 hours Yoga Instructor. Graduates may register with the different Yoga Alliances in the 200 hours level.

Yoga Center is a Yoga Alliance USA Registered Yoga School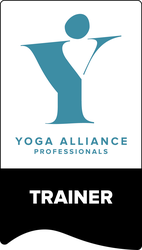 Yoga Center is also a Yoga Alliance UK Registered Yoga School
"Our training school has met the stringent requirements set by Yoga Alliance UK, demonstrating that our courses are of the highest standard and that our graduates may use the title 'Registered Yoga Teacher' RYT as a sign of quality training."
Note
We reserve the right to make changes to any of the above without further notice.