The Best Exercise for Healthy Bones
Healthy Bones?
A special section of Medicine & Science in Sports & Exercise, the journal of the American College of Sports Medicine detailed a continuing controversy in the field of sports science about exactly how exercise works on bone and why sometimes, it doesn't. "There was a time, not so long ago," when most researchers assumed "that any and all activity would be beneficial for bone health," says Dr. Daniel W. Barry, an assistant professor of medicine at the University of Colorado, at Denver, who has studied the bones of athletes and the elderly.
Recent Research
Recent findings are showing that competitive swimmers had lower-than-anticipated bone density, and that competitive cyclists sometimes had fragile bones and, finally, some studies suggest, that weight lifting did not necessarily strengthen bones much. Too much endurance exercise may actually reduce bone density. In a study by Dr. D.W. Barry, competitive cyclists lost bone density during a long training season. Dr. Barry says that it's possible that exercise that is too prolonged or intense may lead to too much calcium loss through sweat. The endocrine system may interpret this loss of calcium as serious enough to start leaching the mineral from bone.
The Best Exercise
The current message about exercise and bone building may be that the best exercise is to simply jump up and down. "Jumping is great, if your bones are strong enough to begin with," Dr. Barry says. "You probably don't need to do a lot either." (If you have a family history of osteoporosis, check with a doctor.)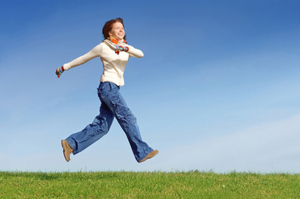 Hopping also aids in balance, which may be as important as bone strength in keeping fractures at bay. Dr. Barry says, "fragile bones don't matter, from a clinical standpoint, if you don't fall down.
---
Comments
0 comments for this post
Leave a Comment