How your Flexibility affects your Arteries
"Happy New Year Heart Attack"

Heart attacks are more common during the winter months than in any other season. A study of death certificates published in Circulation in 2004, confirmed the association of heart-attack deaths during the winter. The results were referred to as "The 'Merry Christmas Coronary' and 'Happy New Year Heart Attack' Phenomenon."
Paschimotanasana Test of Your Arteries

Why heart-attack deaths surge during the winter holidays is not clear, but cardiologists have some informed guesses. A new study published in the journal Heart and Circulatory Physiology suggests, that there may be a way to test at least one element of your heart's health right in your own home, right now. Sit on the floor with your legs out in front. Bend from the hips. Can you touch your toes? If you can, then your cardiac arteries are probably flexible.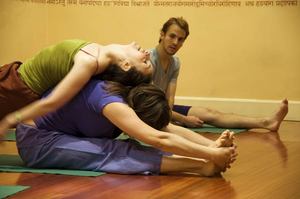 The study recruited 526 healthy adults between the ages of 20 and 83 and had them perform the forward bend test described above, and measured their extensions precisely. Researchers sorted the subjects into either the high-flexibility group or the poor-flexibility group.

Next, researchers estimated how flexible their arteries were. Supple arteries let the blood move freely. Stiff arteries make your heart work harder and over time could lead to a greater risk for heart attack and stroke, according to researchers at North Texas University.
Correlation if over 40
The researchers found a correlation between inflexible bodies and inflexible arteries in subjects older than 40. Adults with poor forward bends tended to have arterial stiffness. The study concluded that "a less flexible body indicates arterial stiffening, especially in middle-aged and older adults." This correlation was not found in those under 40.

Arterial stiffening does not necessarily lead to arterial disease, Mr. Yamamoto says. Some arterial stiffening is inevitable with age; but the stiffer your arteries, the less efficient your heart is. Mr. Yamamoto says, that alterations in the composition of muscle tissues in the lower back could be occurring in the arterial walls at the same time.
Good News
The good news is that increasing your flexibility might somehow loosen up your arteries. That was the unreplicated finding of a small study at the University of Texas at Austin in 2008. The study examined whether weight lifting increased arterial stiffness. (It didn't). The control group stretched. They were not expected to change cardiac function, but over the course of 3 months they increased the flexibility of their arteries by about 20 percent.

Mr. Yamamoto and his researchers are conducting a large study to determine how stretching affects the arteries. Until the results are in, Mr. Yamamoto says, it's best to consider your flexibility as a probable indication of your arterial elasticity. "If you can touch your toes in the sit-and-reach test, your flexibility is good," he says. Tight arteries are not necessarily diseased arteries; they're just not fit.
For those of you who practice Yoga regularly it seems I have just found another reason for you to keep it up. If you are new to Yoga now is a good time to start.
---
Comments
1 comment for this post
Leave a Comment