Mind in Indian Buddhist Philosophy
Mind in Indian Buddhist Philosophy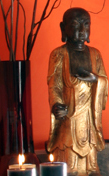 No other classical tradition, East or West, offers a more complex account of mental phenomena than Buddhism. Buddhists do not associate mental phenomena with the activity of a substantial, independent, and enduring self or atman. Buddhist theories of mind center on the doctrine of no-self (anatma), which claims that human beings are reducible to their physical and psychological constituents.
1500 years of analysis
Indian Buddhist analyses of the mind span a period of some fifteen centuries, from the Buddha (ca. 450 B.C.E.) to late Mahāyāna Buddhism (500–1000 C.E.). Philosophical accounts of mind emerge from the Abhidharma traditions (150 B.C.E. to 450 C.E.), while their roots are found in the Buddha's teachings of the no-self.
See things as they really are
The Buddha declared that we ought to regard any sensation or form of consciousness, "past, future, or present; internal or external; manifest or subtle...as it actually is...: 'This is not mine. This is not my self. This is not what I am'" (Majjhima Nikāya I, 130).
The "self"
The denial of a permanent self, and the refusal to treat persons as referring to anything real or permanent, is an integral part of the Buddhist view of consciousness.
This Buddhist view is very attractive to modern Psychologists who tend to consider the Self as a construction, not an essence taht is in any way permanent.
---
Comments
0 comments for this post
Leave a Comment